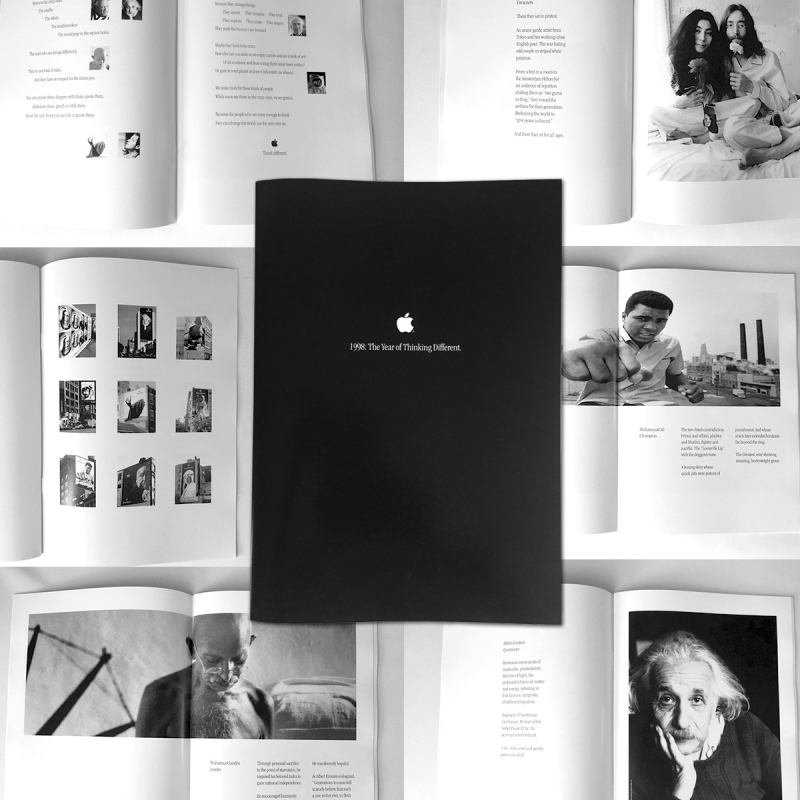  
Apple-Book: 1998 The Year of Thinking Different (Reprint)
1998 The Year of Thinking Different
REPRINT BOOK - 52 Pages

This is a reprint of the limited book about the advertising campaign "Think Different".
This book was distributed ONLY to Apple employees and affiliates in November 1998!
It had never been for sale in stores! A piece of Apple history!

The first pages contain an introduction by Steve Jobs.

Furthermore there are pictures and texts to the following persons:
Mahatma Gandhi, Pablo Picasso, Alfred Hitchcock, Rosa Parks, Bob Dylan, Buzz Aldrin, Muhammad Ali, Thomas Edison, Martha Graham, Jim Henson, Maria Callas, Dalai Lama, Amelia Earhart, Ansel Adams, Joan Baez, Paul Rand, Miles Davis, Lucy & Desi, John Lennon & Yoko Ono.

- 52 pages
- size: 21 x 29.7 cm
Data sheet
Size

21 x 29,7 cm

pages

52
Customers who bought this product also bought:
7 other products in the same category: