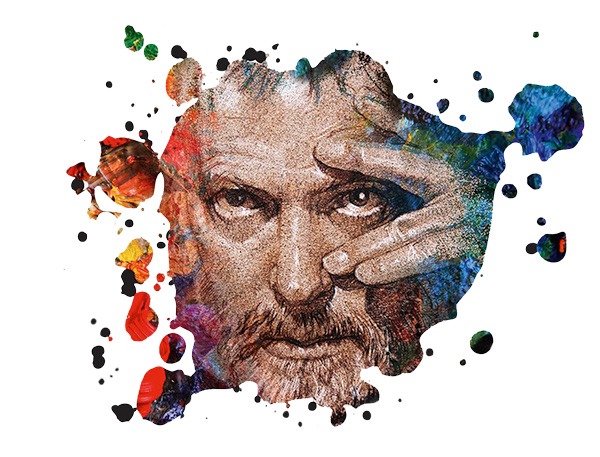 Drew Struzan began designing film posters in 1975. At first he only designed posters for various B-movies, but in 1977 he finally had his big breakthrough when he was allowed to design the poster for "Stars Wars". This success brought him to the attention of other film studios and he was now more often commissioned to create posters. Altogether he designed more than 150 movie posters, among them the posters for the Indiana Jones movies, the Star Wars series, for Police Academy and many others.
Born on 14 May 1947 in Oregon, he began studying at the age of 18 at the Art Center College of Design in Los Angeles. When a student advisor talked to him about his future and told him that he would be freer as a visual artist, but would earn significantly more money as an illustrator, the choice was easy: "I must have something to eat," Struzan's short and concise answer said.
Within five years, he had a Bachelor of Arts degree with distinction in his pocket and earned a small extra income from art commissions. He also successfully completed a two-year Master's degree. Finally, he returned later as a lecturer to his university, which had now been relocated to Pasadena.
Early career
About his career Struzan says: "I was poor and hungry, and art was the shortest way to a slice of bread. I had nothing as a child and had to draw with pencils on toilet paper - the only paper that was tangible. Probably that's why I love drawing so much, because it was all I had at the time."
After graduating, Struzan stayed in Los Angeles, and after a recommendation from the employment agency, he found a job as a personnel artist for the Pacific Eye & Ear design studio. There he began to draw album covers under the direction of designer Ernie Cefalu. Over the next 5 years he worked on album covers for many artists including Tony Orlando and Dawn, The Beach Boys, Bee Gees, Roy Orbison, Black Sabbath, Glenn Miller, Iron Butterfly, Bach, Earth, Wind and Fire and Liberace.
Struzan also illustrated the album cover for Alice Cooper's "Welcome to My Nightmare", which named "Rolling Stone" one of the 100 best album covers of all time. Despite the growing demand, Struzan earned a maximum of $150 to $250 per cover at the time.
Airbrush Poster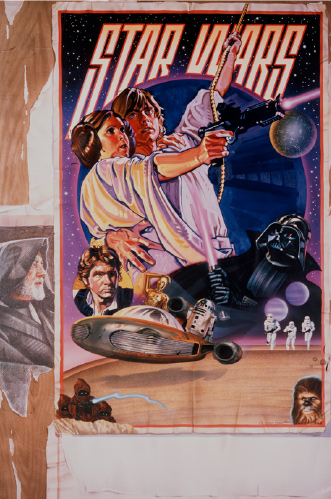 Together with a friend from the film industry Struzan founded a small company called "Pencil Pushers". This collaboration lasted eight years. During this time he refined his distinctive poster style using the airbrush technique that would later make him famous. In 1975 he made his first film poster works, but these were mainly for the so-called B-Movies. A colleague of Struzan's, Charles White III, also known for his airbrush skills, had been contacted by David Weitzner, vice president of advertising at 20th Century Fox, about a commission for a poster design for the re-release of "Star Wars" (1978). As portrait painters were not necessarily one of White's strengths, he asked Struzan for help with this project. So Struzan painted the human characters in oil paints and all the mechanical details of the poster.
The unique poster design, also called "Circus" poster, looked as if it was torn and applied to a plywood background. "It was necessary to supplement this," explains Struzan. "They found that there wasn't enough room for typography. So how can we generate more space on a poster that's already printed? Let's pretend it was written, then we can put the typography under the actual poster. We painted Obi Wan on the side to make it wider and deeper at the bottom."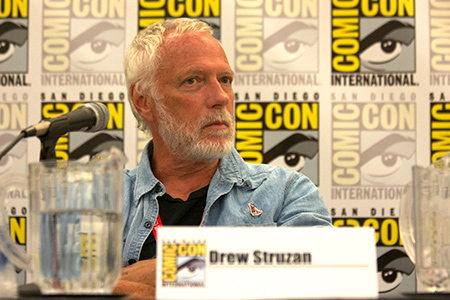 During the 70s and 80s Struzan produced posters for movies like "Blade Runner", "The Thing", "The Cannonball Run", "Police Academy", "Zurück in die Zukunft", "E.T.", "The Muppet Movie", "Feivel" and "The Goonies". In the eighties Struzan designed about ten posters a year.
During this time he continued to work with George Lucas, from the original design of Lucas' Industrial Light & Magic logo to the posters of the Star Wars saga and the Indiana Jones movies. A special feature of his work was that it conveyed the visual message of the films. He was also responsible for the covers of various media, especially DVDs, books and video games.
Digital world
With the advent of computers and digital image retouching, which were now widely used in poster design, Struzan was affected by the decline in traditional poster art. While he continued to draw posters for films such as "Hellboy" and "Harry Potter", he also broke new ground: He expanded his product portfolio with comic books, limited art paintings and collectibles. For example, he created Franklin Mint collector's plates, which included a twelve-piece set in memory of Princess Diana, the packaging for the Parker Brothers board game "Cluedo," and US stamps.
Struzan often laments the decline of traditional art: "I love the texture of the color that comes from the earth and the oil that comes from the trees. I love the expression of paint on a brush or charcoal smeared by hand, the drops of paint and water, the smell of the materials. I enjoy the changeability of a painting in the morning light or in the afternoon, when the sun turns a painting orange at night or transforms it by fire. I love to see, to touch, to smell and to create. My gift is to share my life by giving others access to my heart and mind through such tangible, understandable and familiar means. Painting is a part of expression".
From 1995 to 1997, Drew Struzan's work for George Lucas and Steven Spielberg was shown in Japan in a series of solo exhibitions, all of which were very successful. In a 1999 exhibition entitled "Drew: Art of Cinema," Struzan presented over 65 pieces of his art at the Norman Rockwell Museum in Stockbridge, Massachusetts.
For the release of "Star Wars: Episode I - The Phantom Menace", George Lucas contractually regulated the usage rights to Struzan's poster. This cover was the only motif approved for use by foreign dealers. Changes to the artwork were prohibited.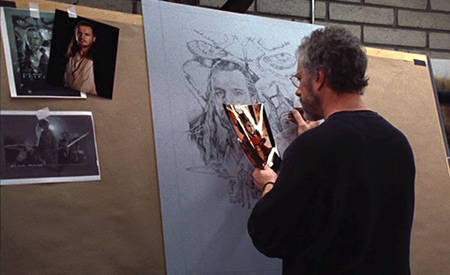 Retirement?


After completing extensive work on the "Indiana Jones and the Kingdom of the Crystal Skull" campaign, Struzan announced his retirement on 3 September 2008. In 2009, however, in collaboration with Jim Sanders of Reel Ideas, he produced a DVD "Conceiving and Creating the Hellboy Movie Poster Art" as a step-by-step documentation of his creative work and the techniques he used. In an exhibition in February 2009 entitled "Drew Struzan: An Artist's Vision" at the Nucleus Gallery in Alhambra (California) he presented selected artworks in his first public exhibition in 10 years.

In the same year Struzan produced a poster to mark the 50th anniversary of Mattel's Barbie doll for publication in "Kurv" magazine. Four years later the DVD "The Man behind the Poster" was released, a documentary about the work of Drew Struzan with interviews with many companions, including Steven Spielberg, George Lucas and Michael J. Fox.
In 2015 he returned from his retirement and created the poster for the movie "Star Wars - The Force Awakens".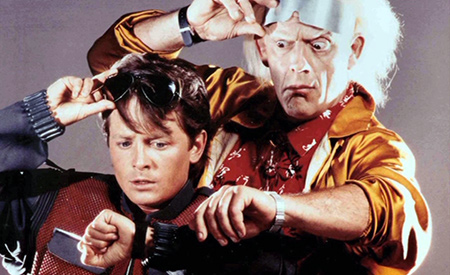 Creative process
At the beginning of the projects Struzan begins with sketches on a drawing board previously treated with plaster and chalk. He then paints the drawing with airbrush acrylic paint, highlights and other details with coloured pencils and airbrush if necessary. By applying the plaster-chalk mixture beforehand, he is always able to do justice to any necessary changes to the work. He works on a scale of 1:1 the size of a film poster measuring approximately 27" x 40" (68.58 cm x 101.6 cm). Struzan works with both reference photographs and live models, including pictures of himself, family members or friends in the desired pose. He is responsible for the arrangement of the individual parts of the picture. He is also known for his speed at work: a painting usually lasts one to two weeks.
Worth reading
First published in 2004 and reprinted in 2011, the book "Oeuvre" comprises 314 pages of the best and most famous works by Drew Struzan. In addition to almost 250 large-format pictures, this work also features a foreword by George Lucas. The text is by Drew and his wife Dylan. All highlights of his career are included: In addition to the film posters, book covers, stamps, trading cards, advertising material and personal works also find their place. The definitive collection of his work and an intimate look at his legacy.
Another book also deals with the artist's entire portfolio. The difference to "Oeuvre" lies in the shorter texts and the smaller selection of illustrations. To the disappointment of many fans, some famous film posters are also missing here. The text was written by Struzan himself and David J. Schow, known among others as co-writer of the cult film "The Crow" with Brandon Lee. The foreword here was written by director Frank Darabont.
The first book on the market about the works of Drew Struzan is called "The Movie Posters". It was published in 2004 and has been out of print for several years, because the following books include everything that was part of this book. As with "Oeuvre" director and Star Wars inventor George Lucas, the foreword was written.

Drew Struzan Portfolio Extract
---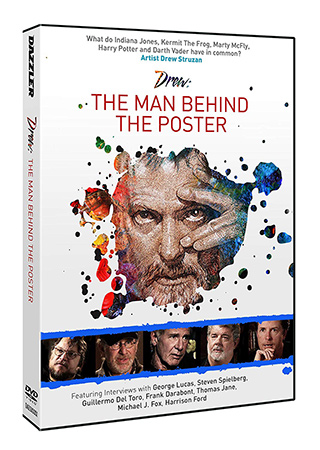 Comments (0)
No comments at this moment
New comment