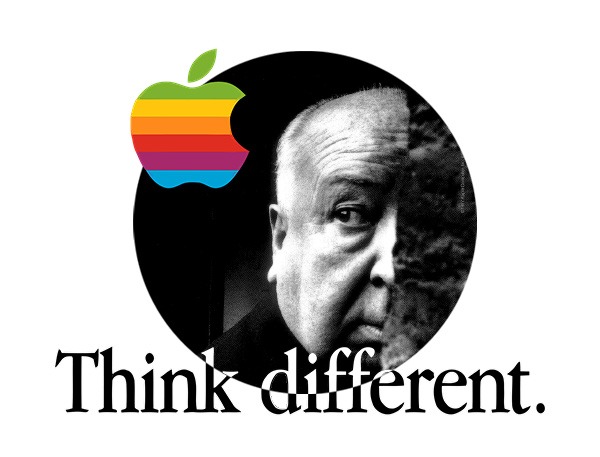 ---
Apple had lost its shine in the 90s. Under ex-CEO John Sculley many different systems were manufactured, some were quite inspiring, others rather mediocre. Apple continued to win design awards, but the majority of them were on the spot. As Steve Jobs gradually took control of the company, the focus was also on improving Apple's image. This would inevitably lead to a highly successful and long-lasting "Think Different" campaign.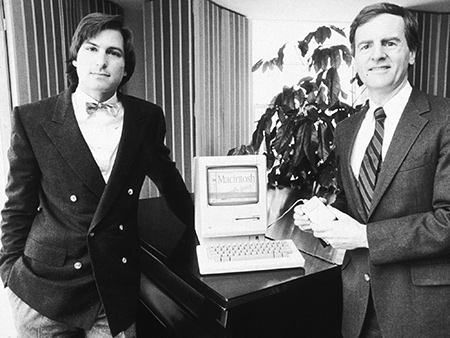 Apple's PR problem


After Jobs' dismissal in 1985, CEO John Sculley brought about many changes in the company. One of the first was a new marketing strategy. Sculley and the rest of Apple's top executives did not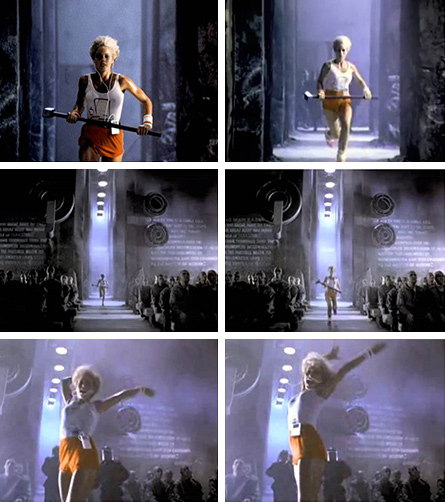 necessarily agree with the Macintosh's 84-page advertising campaign's aura at the Superbowl. Fortunately, they were outvoted by Jobs, Bill Campbell, Steve Wozniak and Lee Clow, Creative Director of Chiat/Day. Thus, 1984 became one of the most famous TV commercials of all time.
However, 1985 was not a happy year for Apple. The lemming commercial was quite unpopular with many Apple managers and also with John Sculley. Jobs and his entourage reasserted themselves and the commercial continued to air ... and flopped. Many of Apple's business customers felt attacked and shunned the Macintosh. John Sculley then fired the Chiat/Day advertising agency, which had been handling Apple's PR for many years.
From then on Sculley focused the brand more on conventional advertising. Although abstract ads were still in use, they were far outbid in the number of ads that focused on product features and pricing. The focus was now less on the brand image itself. Perhaps also because of the uninspiring image, Apple's fortune continued to shrink in the mid-1990s. The company invested more than a billion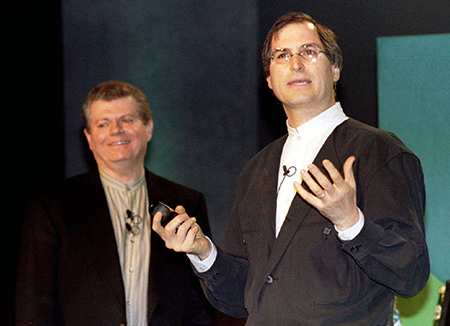 dollars in the Newton, a handheld project that turned out to be unprofitable and unpopular. Hundreds of millions of dollars were lost between 1995 and 1997 and thousands of jobs had to be cut.
Apple was a sinking ship, yet Gil Amelio, second managing director after John Sculley, decided to raise cash, cut costs, and buy Steve Jobs' company NeXT. He installed many former NeXT executives in high positions at Apple, displacing some of his hand-picked people. Jobs got a seat on the board and was in direct contact with Amelio. Disgusted by the discomfort of some Apple employees, especially product developers and marketing staff, he wanted to fill the position of CEO. But then he realized that Apple needed him.
On 14.6.1997 Jobs initiated a palace revolt against Amelio. He made an unequivocal speech to the Apple leadership. Then Amelio had to pack his suitcases. However, this did not make Jobs the CEO of Apple. From now on he managed the fate "only" as interim CEO.
The "iCEO" occupied the boardroom and a small adjacent office in City Center 3, which later became Apple's headquarters. He began to make deep cuts in Apple's research and development teams. Amelio had previously reduced 350 projects to 50, Steve Jobs reduced this again to 10. He shrank Apple's inflated product lines into a simple matrix. On top of that, he gave the go-ahead for a radical Apple research project for the Mac NC network computer, which later became iMac.
But all these structural changes alone would not have saved Apple. The company's image had been severely damaged by the hard times, and so once again David stood before the Goliaths IBM and Microsoft. In light of this, Apple was a tired company with boring products and a boring management floor. The real punch was in new start-ups like Real or Yahoo. Steve Jobs tackled this problem with his typical behavior instead of delegating it to his subordinates.
New marketing strategy


He commissioned three advertising agencies to present new ideas. Lee Clow, Creative Director of Chiat/Day, was one of them. In August 1997, he presented the new slogan "Think Different" (perhaps a reference to IBM's famous "THINK" slogan) with photomontages of artists working on the Mac. In an interview with a magazine, Clow said he wanted to show Dreamworks Pictures filmmakers working on the Mac. Jobs was also basically taken with this suggestion, but he didn't want anonymous characters in the spots: Instead of Dreamworks employees, famous personalities embodying the slogan "Think differently" were to be seen.
For a long time he was a fan of b/w portraits. In his company NeXT the offices were very expensive decorated with posters by Ansel Adams and his house in Los Altos with b/w portraits of his heroes, including Albert Einstein. The team began to think about the spot itself. The advertising agency Chiat/Day became Apple's main agency again, and Lee Clow worked directly on the Apple campus from now on. Although the campaign was primarily produced by Chiat/Day staff (using Macs, of course), jobs (often with marketing staff) monitored every step of the process. He used a satellite link between Apple's City Center 3 in Cupertino and the offices of Chiat/Day in Venice (L.A.) to view the clips unaltered and uncompressed.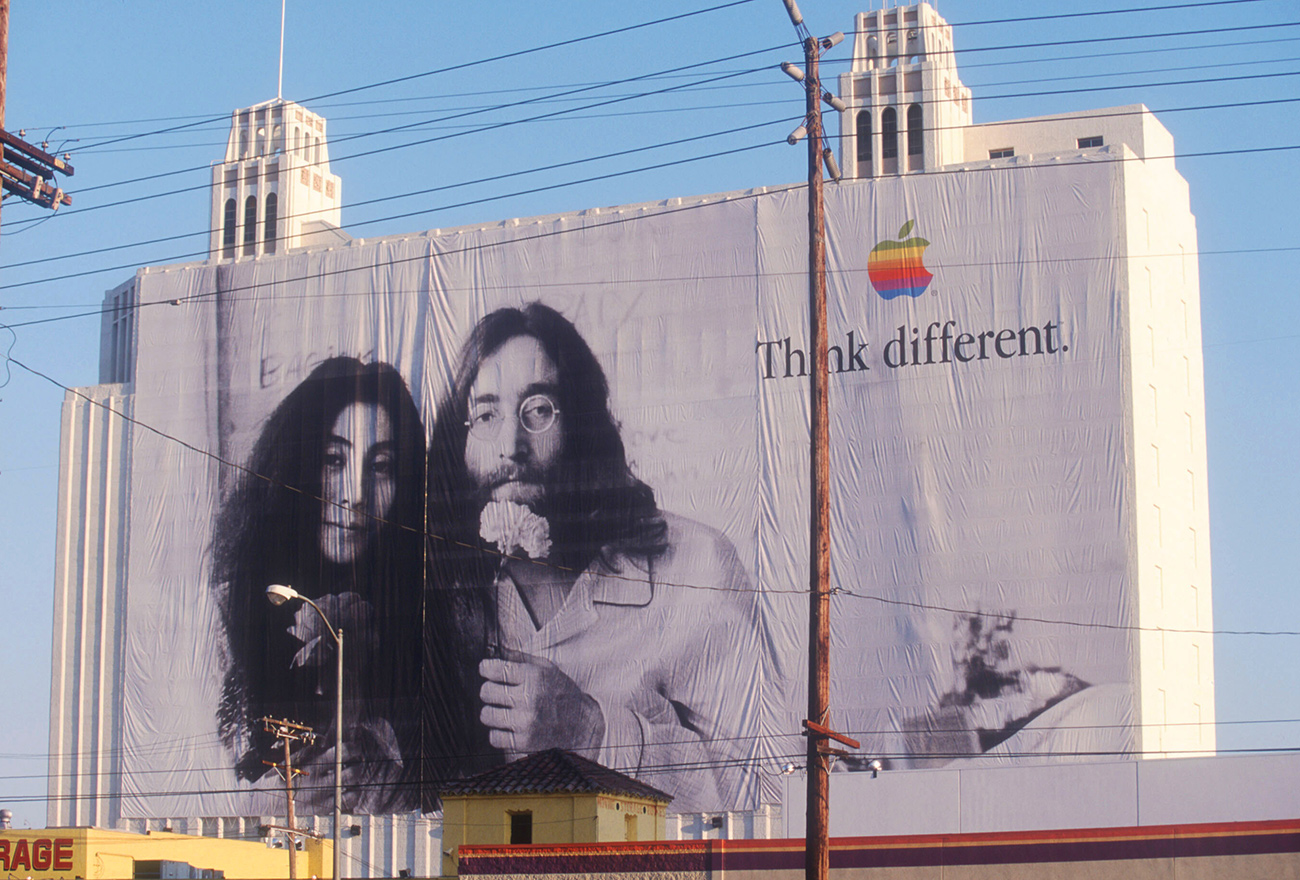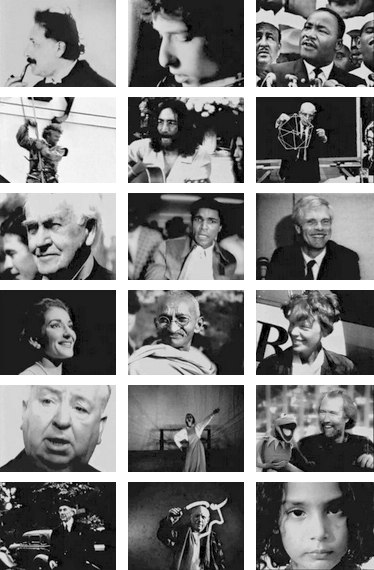 The creative process


Chiat/Day used a completely computer-based, creative working environment for the process. After everything had been clarified and nodded off, Jobs gave the agency 17 days to complete the project. This included TV commercials and billboards for major markets such as Los Angeles and New York City.
A normal campaign for a rather unknown client would have taken significantly more time to obtain the rights to use the images of the various personalities. Here Steve Jobs was of great importance for Lee Clow: the American folk singer Joan Baez, for example, was an ex-girlfriend of his and Yoko Ono a neighbour from New York times. Both lived near Cenral Park, Jobs in the San Remo building, Yoko Ono since their time together with John Lennon in Dakota.
If Clow had asked the celebrities himself, he would obviously have been just another advertising man... Not so with Steve Jobs: He called as a friend and was also a cult figure in the computer industry.
The TV spot was produced using an Avid 4000 system on a Macintosh and Adobe AfterEffects. Jennifer Gulab, who worked intensively on this commercial, was also linked to Jobs via satellite and worked very closely with them. The two were in daily contact, discussing the selection of images (subject to availability and rights), music and language, which was eventually taken over by Richard Dreyfus. An alternative version with Steve Jobs as speaker was recorded, but in the end the Apple boss opted for the Dreyfus version because he feared a distraction from the actual message.
To all who think differently


Dreyfus read a free verse poem, "Here's to the Crazy Ones", written by Chiat/Day, the lyricist was Craig Tanimoto. This poem was used extensively for the entire campaign. The first rule of the campaign was that there should be no products in it. Clow and the rest of the creative team were initially very concerned about the portraits of the artists who used them because of the rights situation.
Instead of payment, money and computer equipment were made available to all involved persons (or their heirs) to support various charitable causes.


Start of the campaign


The prints and billboards were truly unique. Instead of placing them in computer magazines, Apple bought massive advertising space in popular magazines such as fashion magazines. Although large outdoor ads were virtually non-existent in the computer industry, Chiat/Day rented hundreds of highly visible spaces in New York and Los Angeles - which they still do for many projects today. Because they had relatively little time available, no 1:1 proofs were produced for bus stations and billboards. Instead, Jessica Schulman placed her models on the respective streets to give her colleagues an impression of the final design.
Reactions


The "Think-Different" campaign was launched on Sep 28, 1997 and was very popular right from the start. Unlike earlier campaigns, the press was full of praise from the beginning. With it, Apple initiated an about-face. On September 30th, 2 days after her debut, Steve Jobs gave a party for all employees at his Palo Alto home where he talked about Apple's future as well as the campaign: "Our brand is one of the most valuable things we have," says Jobs. And he added: "It only took 15...30... maybe 60 seconds to regain Apple's counterculture image, which the company lost in the 90s."
The whole campaign was awarded several times and developed into a cult. After a while, Apple started sending free posters with famous personalities like Pablo Picasso, Jane Goodall or Ron Howard to public schools all over America to place in classrooms. These packages are still sold today on various websites and auction platforms for hundreds of dollars.
Apple continued the campaign until 2002 and some of the first Apple stores were equipped with "Think-Different" displays and "Here's to the Crazy Ones" lettering before Apple replaced them.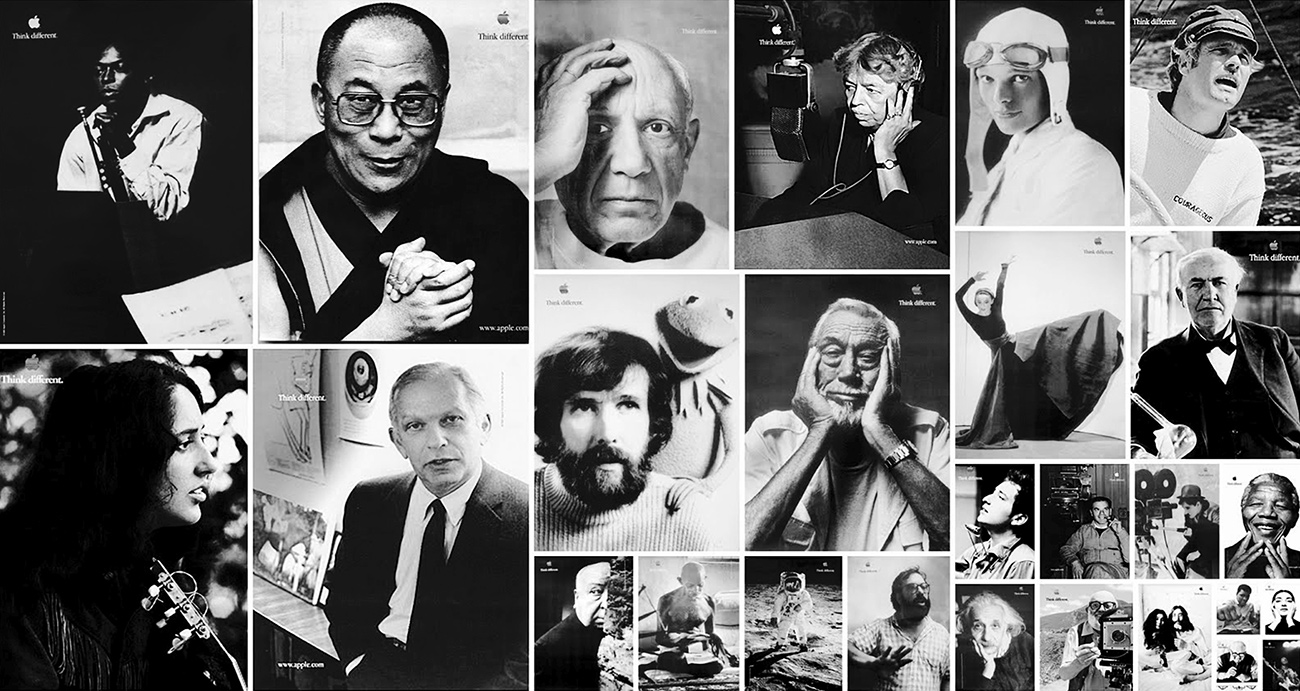 The commercial, spoken by Steve Jobs (left) and the original Dreyfus version.
---
* Rob Siltanen, creative director and partner of Chiat/Day at the time, was involved in the development of the campaign and told a slightly different story in December 2011. Sultans said Jobs had initially reacted "blatantly harshly", but after that he was able to get a lot out of the idea.
Comments (0)
No comments at this moment
New comment